Give to Hewnoaks
Gifts to Hewnoaks Artist Colony support our mission to promote and encourage the development of emerging and mid-career artists of all kinds, including visual artists, writers, musicians, filmmakers, performing artists, and curators, by providing an exquisite natural environment in which to consider, imagine and create.
Your generosity allows us to continue to provide free residencies to more than 50 artists each season. We deeply appreciate any and all contributions. Thank you very much in advance.
Checks may be sent to:
Hewnoaks Artist Colony
PO Box 15052
Portland, ME 04112
Stock Transfers may be made to:
TD Ameritrade
DCT# 0188
Account# 494285308
Contribute today!
Hewnoaks is a 501(c)3 non­profit organization. All donations are fully tax­-deductible as charitable contributions. Our tax ID number is 46-4508441.
"My time at Hewnoaks was incredible both for my work and for my frame of mind in general. Having time to truly just focus on what you're passionate about is irreplaceable, and the beauty and seclusion of Hewnoaks seems just about the perfect place for it."
Thank you to these donors who contributed since July 1, 2018:
Linda Aldrich
Jonathan Blatchford
David Bradford
Jessica Buckley
Rob Bywater
James Chute
Jenna Crowder
Gibson and Renee Fay-LeBlanc
Gorham Savings Bank
Greenwold Family Foundation
David Grozinsky
Cyrus Hagge
Sarah Haskell
Alison Hildreth
Anne Isaak
Serena Joyce
Kirby Family Foundation
Jennifer Lunden
The Lunder Institute for American Art at Colby College
Maine Arts Commission
Maine Community Foundation
Thelma Maguire
David and Carolyn May
Nat May
Megan McGilchrist
Glenn Morazzini
Sandell Morse
Jeremy Moser and Laura Kittle
Herbert and Mary Lou Moulton
Norway Savings Bank
Tessa O'Brien
Onion Foundation
Veronica Perez
Rick Ramseyer
Jennifer Reck
Chris and Maggie Robinson
Rachele Ryan
Emily j. Sano and Gilson Riecken
Gina Siepel and Sara Smith
Dennis Smith
Virginia Hodgkins Somers Foundation
Judith Steinbergh and Bob Kroin
Sustainable Arts Foundation
Thompson Foundation
Jessica Tomlinson
The Via Group, LLC
Beverly Werber and Peter Golden
Elizabeth Whelan
Daniel Willet
Kathryn Williams
The Writers Hotel and The New Guard
George and Moira Yip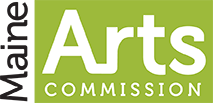 Funded in part by a grant from the Maine Arts Commission, an independent state agency supported by the National Endowment for the Arts.