Apply
"At Hewnoaks I had time, space and freedom to make without consequence, a most valuable combination of factors that I will forever seek to recapture."
Our 2023 application process closed in March. Watch this space for announcements regarding our 2024 application process, which will open in late January or early February (exact date TBD).
We particularly want to support emerging and mid-career artists who don't or haven't had much access to resources like this. If you plan to attend other residencies this year or have other significant support, we ask you to consider leaving room for someone else to be invited to Hewnoaks.
PARENT ARTISTS: You can apply for cash support for your childcare needs while you are away at the residency. There are additional questions for this at the bottom of the regular application. If you are invited to come, you'll know about whether we can offer you funding before you have to confirm.
Have questions? Check out our FAQ below. 
If you don't see your answer, please ask us by emailing info@hewnoaks.org. We REALLY want to help people figure out if this residency is right before they apply, so please do send us your questions, preferably before the day of the deadline.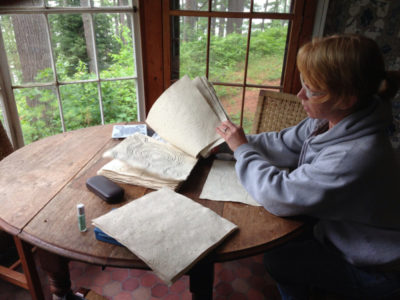 We put together a list of tips for applying to residencies. We really suggest you read that page plus the FAQ before applying. Let us help you put forward the best application you can, after determining whether our program fits your needs.
"Hewnoaks seems to have an aura, an almost tangible invisible atmosphere that belongs to the old pines, the stretching lawn, the lake, the mountains beyond. At Hewnoaks I felt something spiritual and mystical in air. We all felt it. Work came to me in my cottage. It came to me as I walked. I had a sense at Hewnoaks of being my authentic self. I think we all felt this way. The quiet at Hewnoaks lets art in."
Frequently Asked Questions
Who should apply?
We particularly want to support emerging and mid-career artists who don't or haven't had much access to resources like this one. If you plan to attend other residencies this year, we ask that you please leave room for someone else to be invited to Hewnoaks. We focus on short term residency periods that are meaningful to artists who aren't able to attend the many longer-duration residencies that are out there.
Hewnoaks has supported visual artists, writers, musicians, filmmakers, performing artists, curators, and others who work across disciplines. We don't offer traditional studio spaces, but many folks have been able to make use of the historic property.
Students, whether in graduate school, university or otherwise, are not eligible (group applications that include a student are also not eligible).
Competitive applicants will:
Be active in their creative practice (in the last year or two)
Show how they share their work with others (publication, performance, exhibition, etc.)
Share excellent work samples (generated within the last two years)
Is there a fee? Do you offer stipends?
We have an application fee of $30 for individuals and $45 for groups, but no additional fees to attend.
We have limited stipends for parent artists who are leaving behind children that need additional looking after in their absence. There are additional questions for this at the bottom of the regular application. If you are invited to come, you'll know about whether we can offer you funding before you have to confirm.
New for 2020: The Bodwell Fellowship honors Joshua Bodwell's nine-plus years of service as executive director of the Maine Writers and Publishers Alliance and offers one Hewnoaks emerging writer resident a $500 cash award. Huge thanks to the many MWPA members and friends who have supported this new fellowship! There's no additional form to apply: once the Hewnoaks writing jury has finished their work, the list of invited artists will be presented to the MWPA for deliberation of which eligible writer should receive the funds. Full information is available here.
Can students apply?
No, neither part time nor full time students are eligible, however students who will finish their coursework in the spring and will graduate before the residency season may apply.
What do you mean by "Preference will be given to Maine applicants"?
We are excited to support Maine artists, especially those who are new to residencies and other artist support systems in general. We love hosting folks from outside of Maine, but expect that 70-75% of the invited applicants will be current residents of Maine.
For non-Maine artists, please understand that it's more competitive. For context, in 2019 we had 203 applicants: 127 from Maine and 76 from out of state. We invited 42 artists from Maine (about 1/3) and 12 not from Maine (about 1/6).
Can groups apply?
Yes! We encourage collaborative applications from artists wanting to work together on the same generative project. Pairs or groups of artists who want to work independently on their own projects and use some of the time for critique or discussion should apply separately with a request to overlap their time (see below).
Good examples we've invited in the past include musicians writing and playing together, other collaborative performance, writers/editors collaborating together on writing or publishing projects, and visual or multidisciplinary artists who have a real shared studio practice and a history of co-creating bodies of work together.
Good fit group applications:
Collaborative practice by more than one person, generating work together (but not generating work separately that gets presented together)
Geographically dispersed individuals gathering together for the purpose of collectively advancing some aspect of their outward-focused work, like a mini conference or workshop, or a group working on a publication, with stated goals (this requires good planning before the application, and we require that you discuss this approach with us before applying, by emailing us.
Not good fit group applications:
Sets of Individuals who want to work on their own and spend time critiquing their work
Self-focused groups who are developing an exhibition of their own individual work
Nonprofit organizations who want to do planning or capacity building. (For such requests, please inquire via email and we will see what we can do, but know that we primarily serve individual artists not organizations).
Can my partner/friend(s) and I apply together?
If you intend to spend your time at Hewnoaks working on the same project(s), please submit one group application that explains the details of your collaboration. If you plan to work separately but want to overlap while at Hewnoaks, you must apply separately as individuals and indicate your preference to be in residence together (and willingness to share living/working space, if so). Your applications will be reviewed separately. If you are both/all accepted we will do our best to schedule you at the same time if you are not sharing living space.
Can I apply on my own and also as part of a group, or can two of my groups apply?
Because we have limited space available to share, please choose and submit only one application.
I have a group application but I don't know who is in my group yet, can I still apply?
You must name all of your group members in your application so that the jury can evaluate your group based on its members. If you think you have a special circumstance that makes this impossible please email us about your situation before you submit your application. (We have occasionally waived this requirement.)
What kind of facilities do you have?
Hewnoaks has lovely rustic cabins that have their own bedrooms, kitchens and bathrooms, as well as living space that artists make use of for their work. Hewnoaks does not have any traditional studio facilities so our participants make use of the living spaces they are assigned. Artists are given their own cabins and we don't impose any sharing of space unless the participants request it. Projects need to be relatively clean and artists must bring their own materials and tools. There is electricity and running water in each cabin.
Our historic property has steep hills and unpaved paths; participants with limited mobility may have difficulty navigating the property. If you have questions or concerns about this, please email program staff.
It's also very dark at night and can be very quiet. Not everyone is comfortable in this setting – if peaceful Maine woods settings aren't your jam, Hewnoaks might not be for you. Learn more about our facilities here.
How are artists selected?
Each year a different jury of independent arts professionals reviews the applications. The jury considers artistic merit as demonstrated in the work samples, and the stated intention of how the residency time will be used. They look at artists in the context of where they are in their practice, so a recent college graduate and an artist with a 25 year long practice will be looked at differently. You can view a list of past jurors on our residents page, listed by year.
How is the schedule determined?
Applicants indicate in the application which sessions they can be available to commit to, and we fill in the schedule in order of the jury's scores. The greater your flexibility in schedule, the more chance we have to fit you in. We send invitations in early April and ask for a quick turn around of confirmation. Some switching around does happen after that, but we also tend to lose artists whose schedules change because we have filled all of our slots. Artists who withdraw must reapply in the future to try again.
Is there a wait list?
We usually keep a short wait list to help fill in gaps when invited artists withdraw. If there's a chance for you to be on our wait list, we will ask you at the time of notification if you'd like to be on it.
How long can I stay?
For 2023 we will be offering one-week and 10-day residencies. Residents must commit to stay the full time they request.
What expectations do you have of the artists?
We want the Hewnoaks experience to be of use to the resident's practice, either in regards to research and experimentation or in the production of new work. We also hope the artists who are in residence together will benefit from meeting one another. To faciliate those connections, we host a welcome cocktail for each arriving cohort and offer an optional potluck dinner and evenings socials. We find our groups often like to process from cabin to cabin on one night of their stay to share work.
Acceptance of the invitation to attend Hewnoaks is a commitment from the artist, and we expect our participants to arrive on time and stay through the end of their residency period.
After participating, we hope that our alumni will stay in touch with us so that we can know what's going on with their work and help celebrate / champion what they're doing.
Can I bring friends, my dog, my family?
Though guests are free to briefly look around when you first arrive, we don't accommodate guests, families or pets for overnight stays. We want to maintain an environment serenity, calm and mutual respect.
Parent artists can apply for cash support for childcare needs while they are at the residency. You may submit this separate application in early April after being notified whether you will be invited to Hewnoaks. The application is simple, asking you to describe how you would use the funds.
Do I need a car?
You are not required to have a car, but Hewnoaks is in a rural area with minimal public transportation, and expect that you will be able to get yourself to and from the property. Sometimes residents arrange to be dropped off and picked up. Participants typically bring all of their work supplies and food supplies with them at the beginning. There are mom and pop food stores in the vicinity of Hewnoaks, but the nearest supermarket is half an hour away in Bridgton.
Hewnoaks is about a 90-minute drive from Portland, and the closest town is Bridgton. There is a bus, the Lakes Region Explorer,  between the Elm Street Pulse station in Portland and the Bridgton community center that offers regularly scheduled service during summer months. Please let us know if this is how you plan to arrive. For drivers, there is ample, safe parking available on the property itself.
If you have specific questions that are not addressed here, please contact us at info@hewnoaks.org.